It's alright, cuz I'm saved by the bell! I decided a few months ago that I wanted to have a real birthday party this year and that I needed a really good theme. I'm "so excited" to show you all the details of my Saved by the Bell themed birthday party!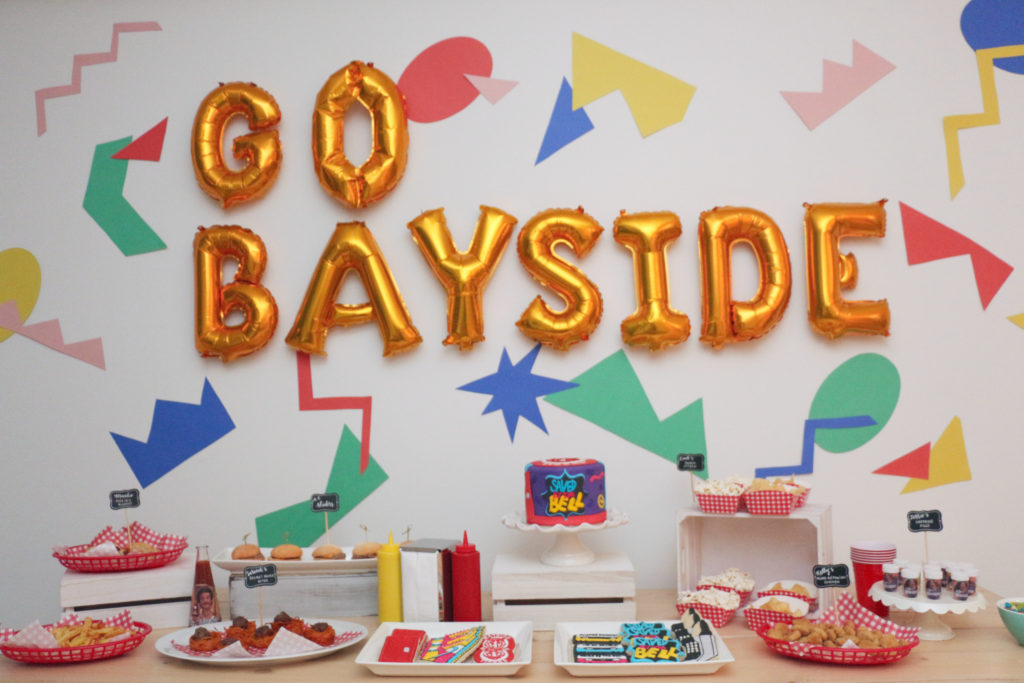 I have always been a fan of Saved by the Bell. I own every season on DVD (even the college years). I once convinced a friend to go with me to Chicago for the sole purpose of visiting their pop up restaurant "Saved by the Max". Plus by a happy coincidence, this year marks the 30th anniversary of when Saved by the Bell first aired, so it was just too perfect!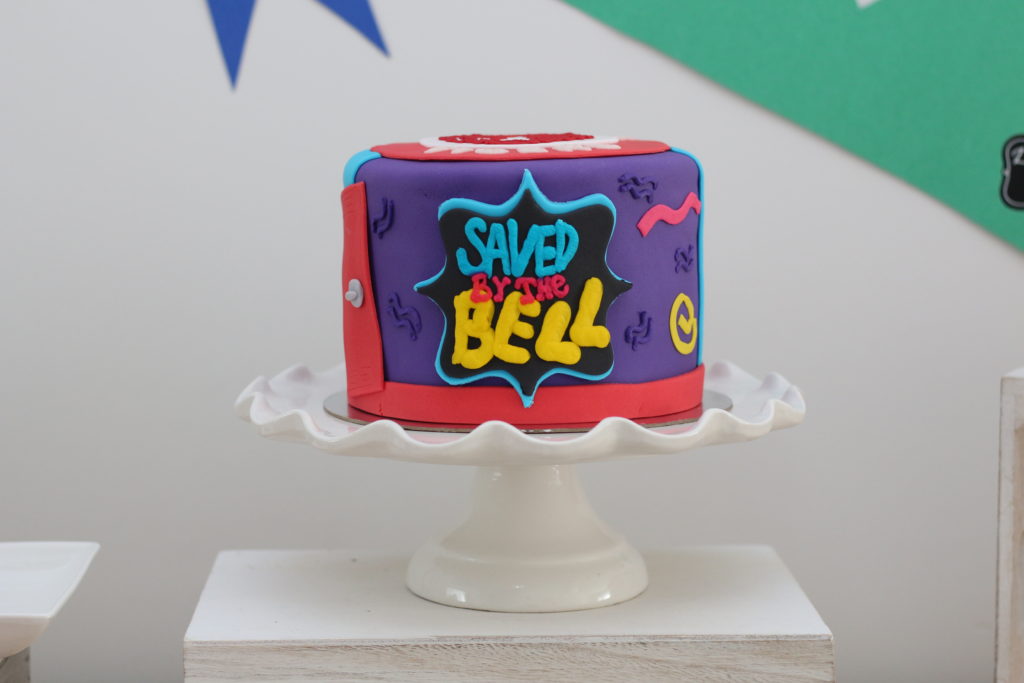 I knew I wanted an awesome cake and cookies so I contacted Jenn of Cake Me Away and she did not disappoint. I mean, just look at those cassette tapes!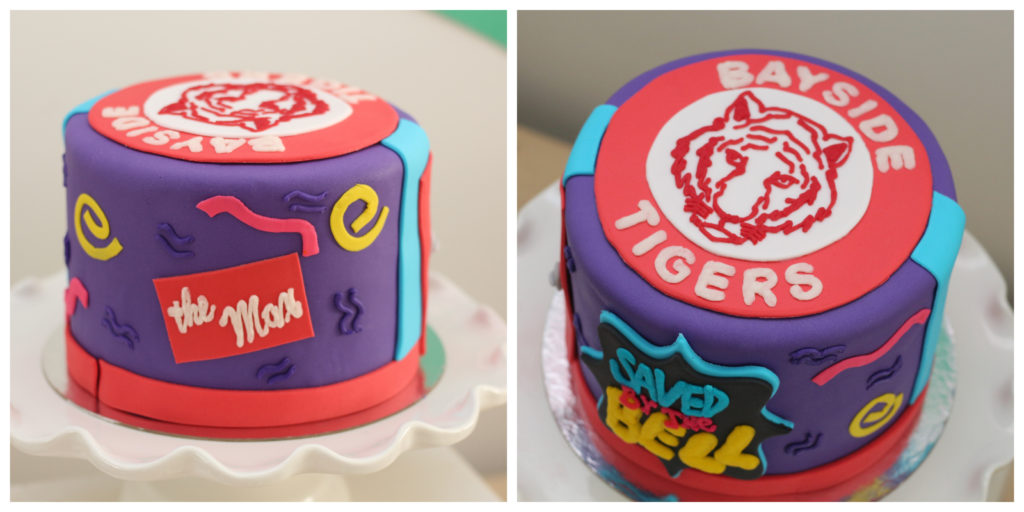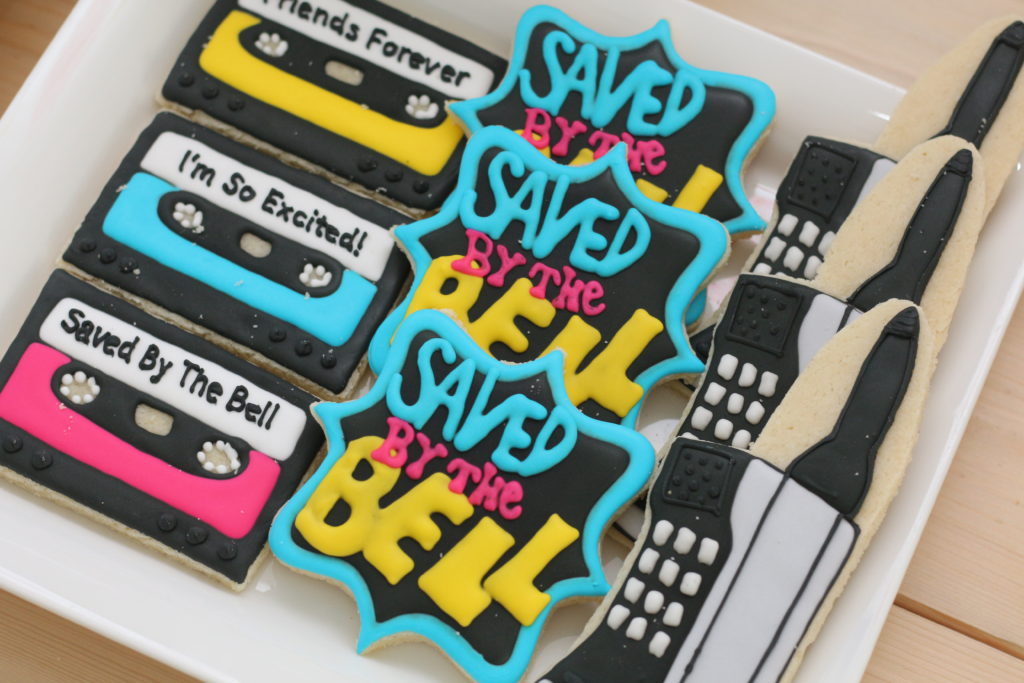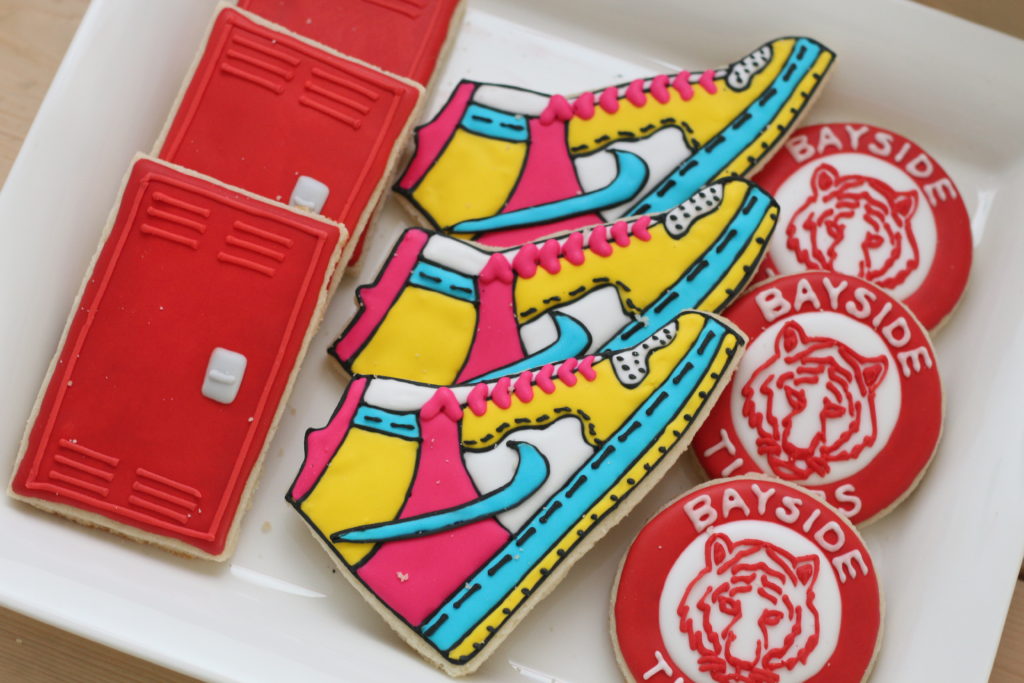 I also wanted to incorporate the characters' names into the food somehow and this was no easy feat! First we have Lisa's Mango Tonic with a Kiwi Twist from the episode "Mystery Weekend". Lisa orders this concoction because it matches with her outfit.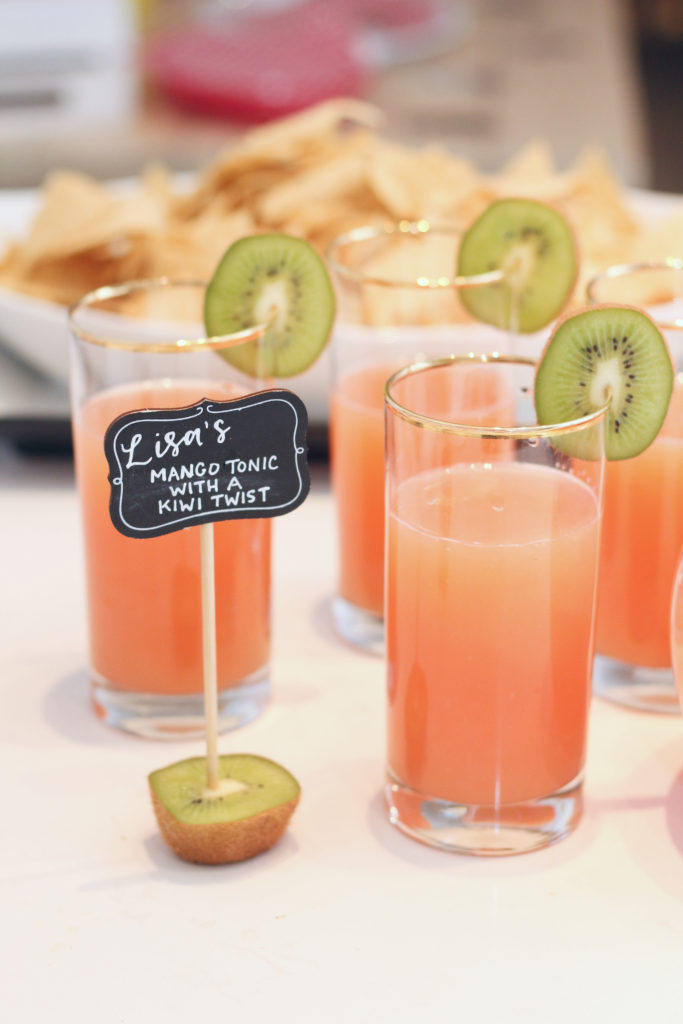 Next up is Zack's Snack Attack, which is a reference to the episode "Rockumentary" where Zack dreams about his band making it big. Friends Forever!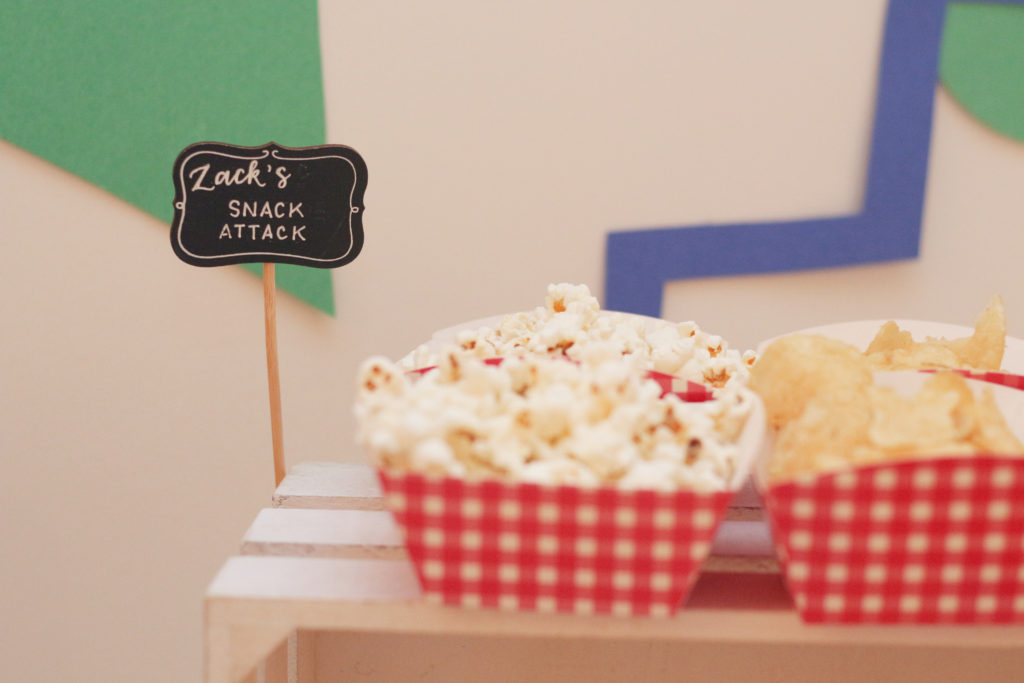 Remember the time when the gang tries to market Screech's secret sauce? I made little spaghetti nests with secret sauce and added meatballs on top. I even found a vase that resembles a science beaker and filled it up with sauce to look like the bottles they sell in the episode. The sauce you can have, but the secret she's-a mine!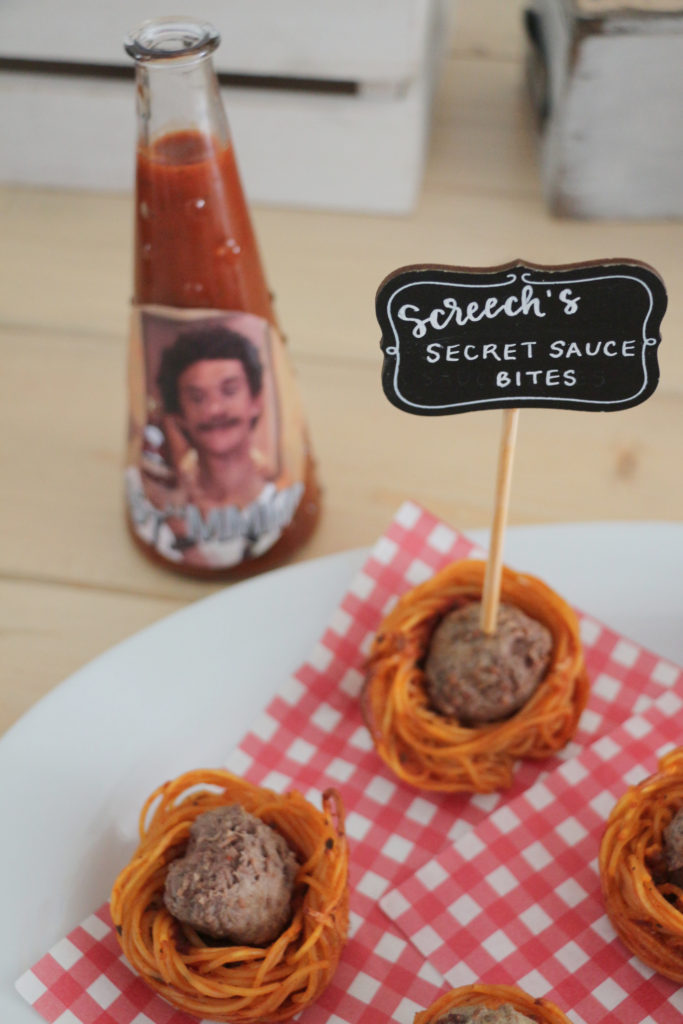 A.C. Sliders. No explanation needed here!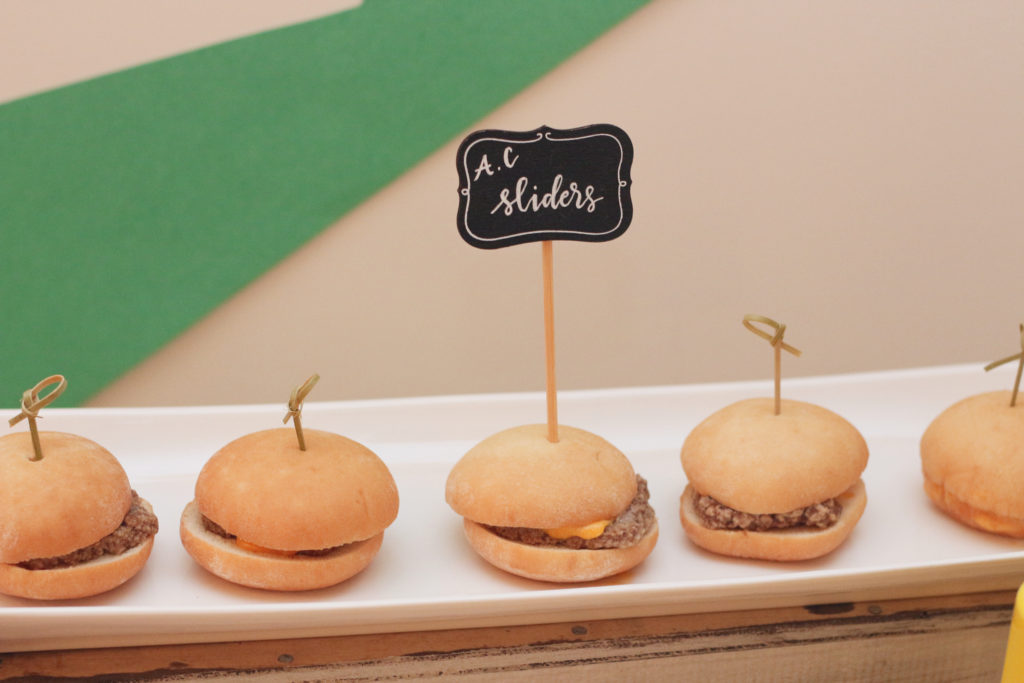 OK this one is a bit of a stretch but the best I could come up with was Kelly's Kung Ka"pow"ski chicken bites. Fun fact – this idea came to me in a dream LOL!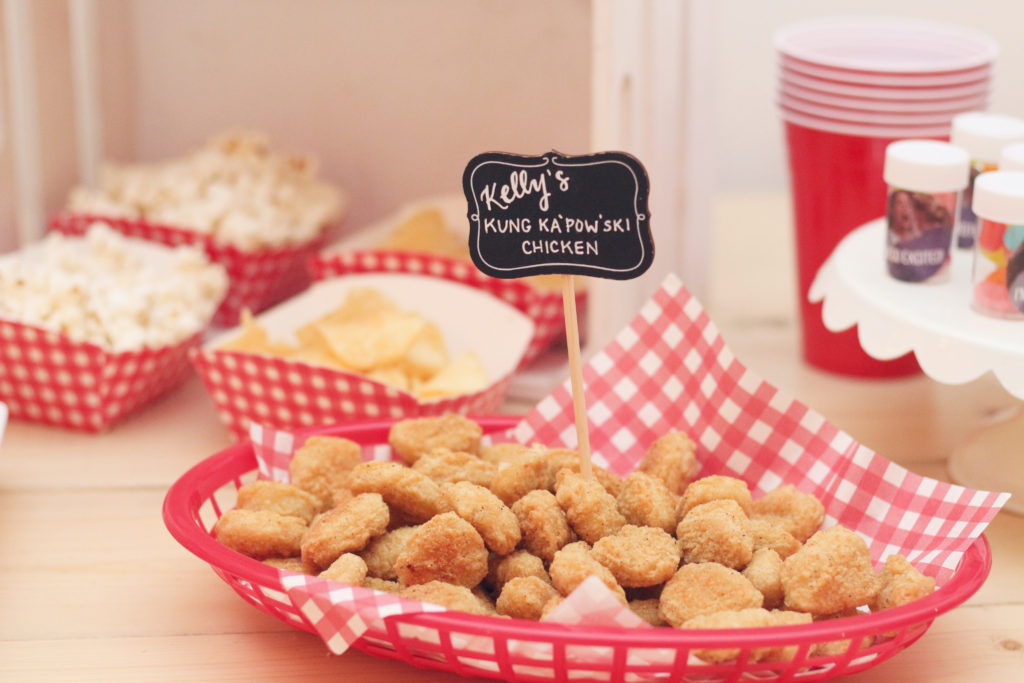 Finally who can forget the time where Jessie gets hooked on caffeine pills? I bought little containers, filled them with Mike and Ikes, then added custom "I'm so excited" labels.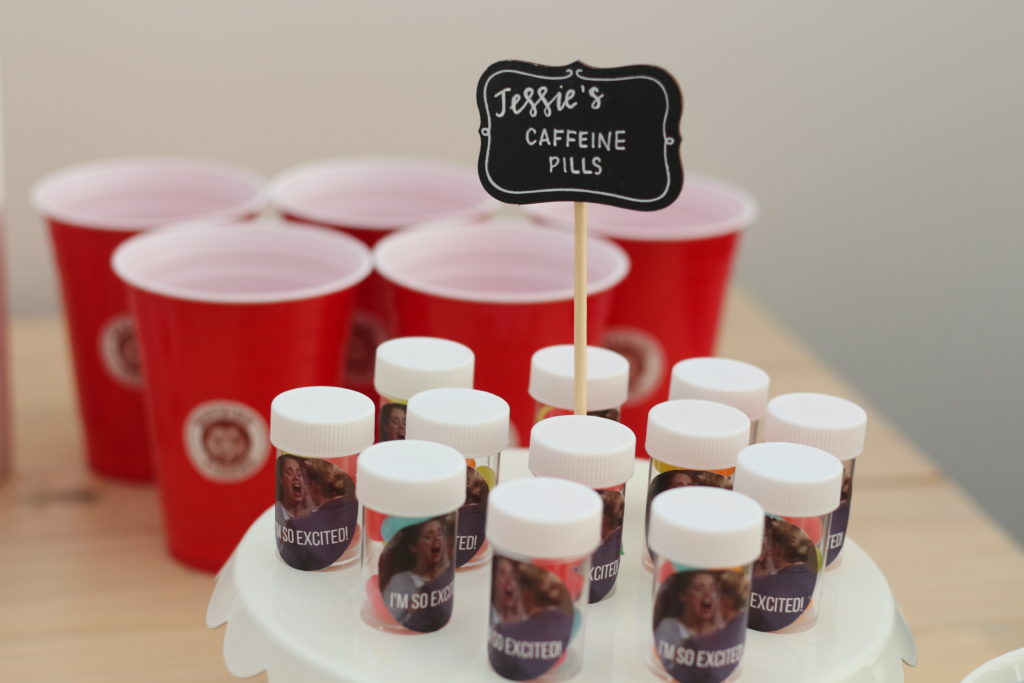 From the same episode, we also enjoyed "Hot Sundaes" only we didn't wear aerobics outfit and then make a music video.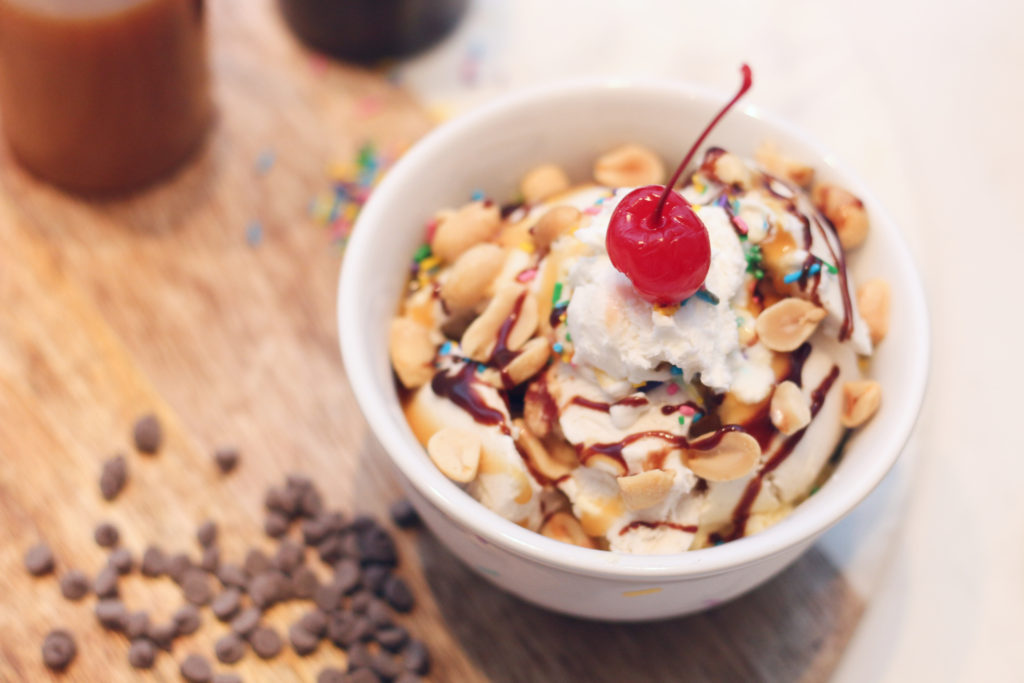 I added some macho pigs in a blanket and fries for good measure.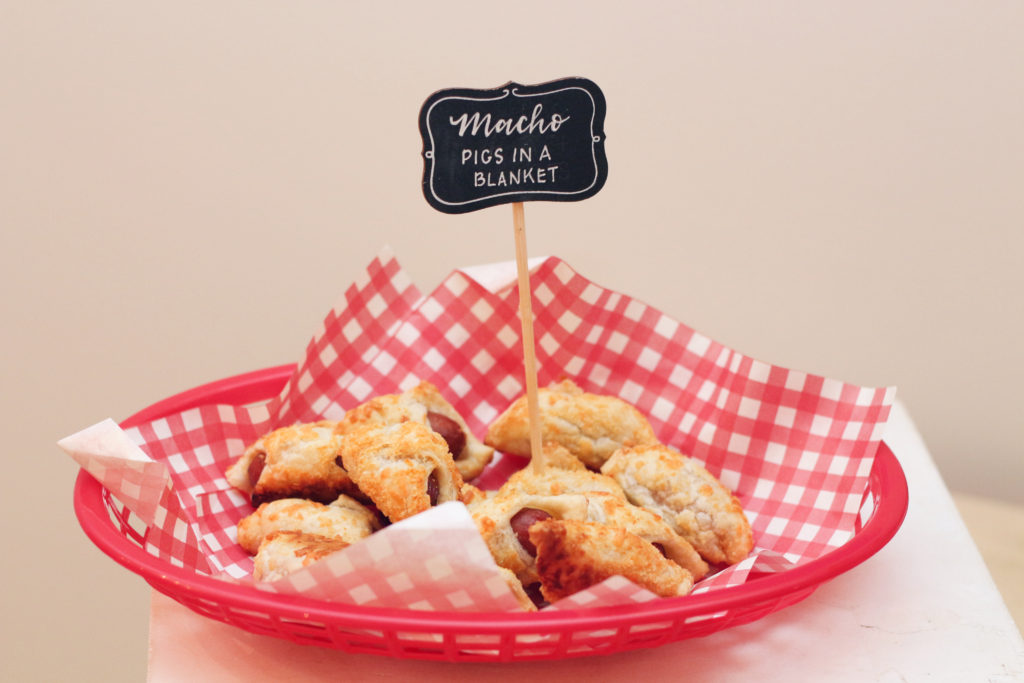 I swapped out my usual shelf decor for Saved by the Bell paraphernalia including DVDS, scrunchies, a boombox and textbooks.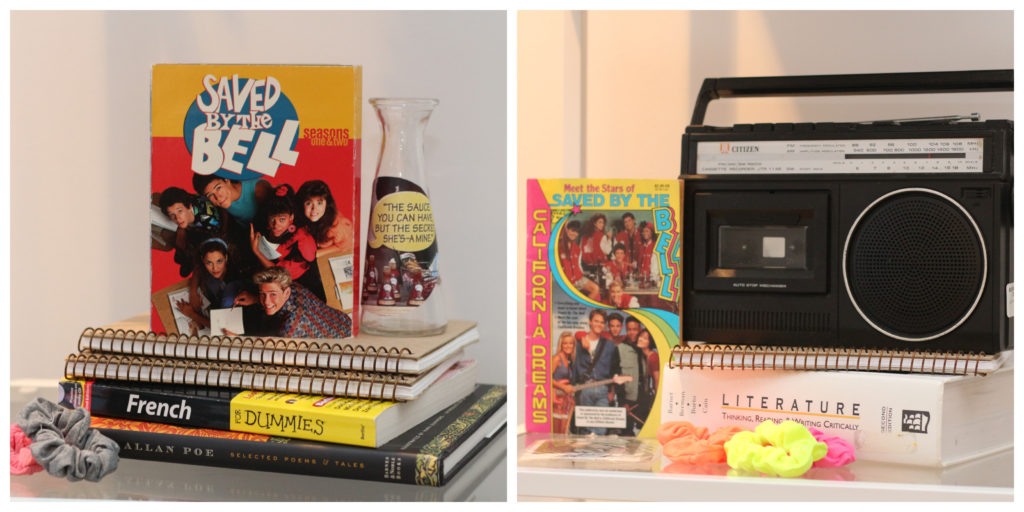 I included extra costumes at the door for guests and plenty of props and photo ops including an inflatable brick cell phone, a banner backdrop, "The Max" door, and red lockers that I built by covering cardboard with wrapping paper.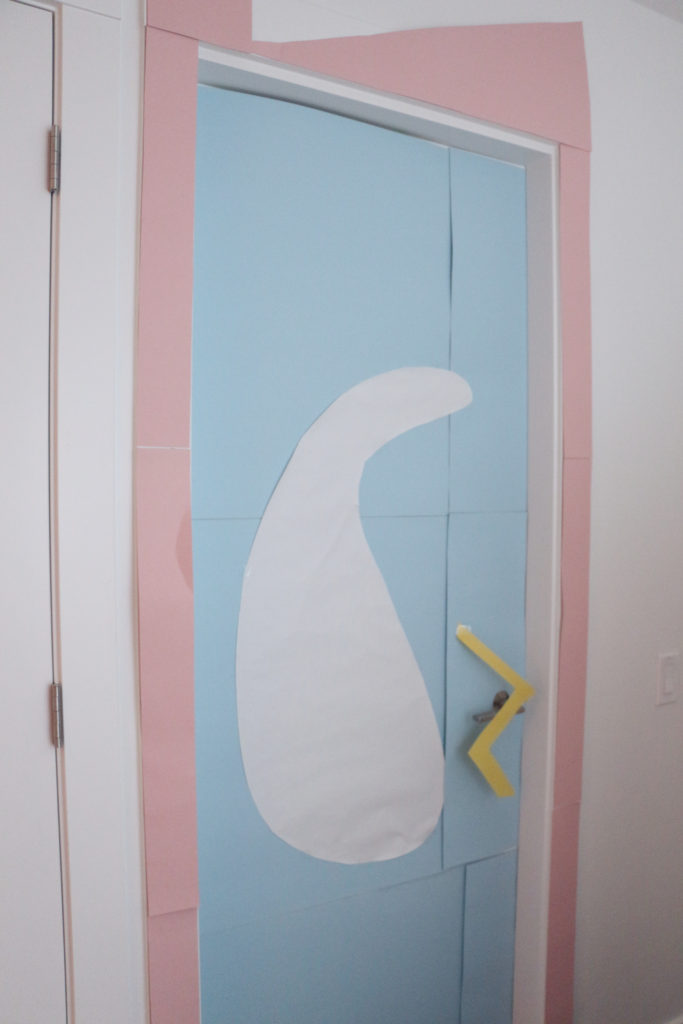 Remember that episode at Malibu Sands Beach Club where they throw Zack a surprise party and it says "Happy Wrong Number by the Sea" on the cake?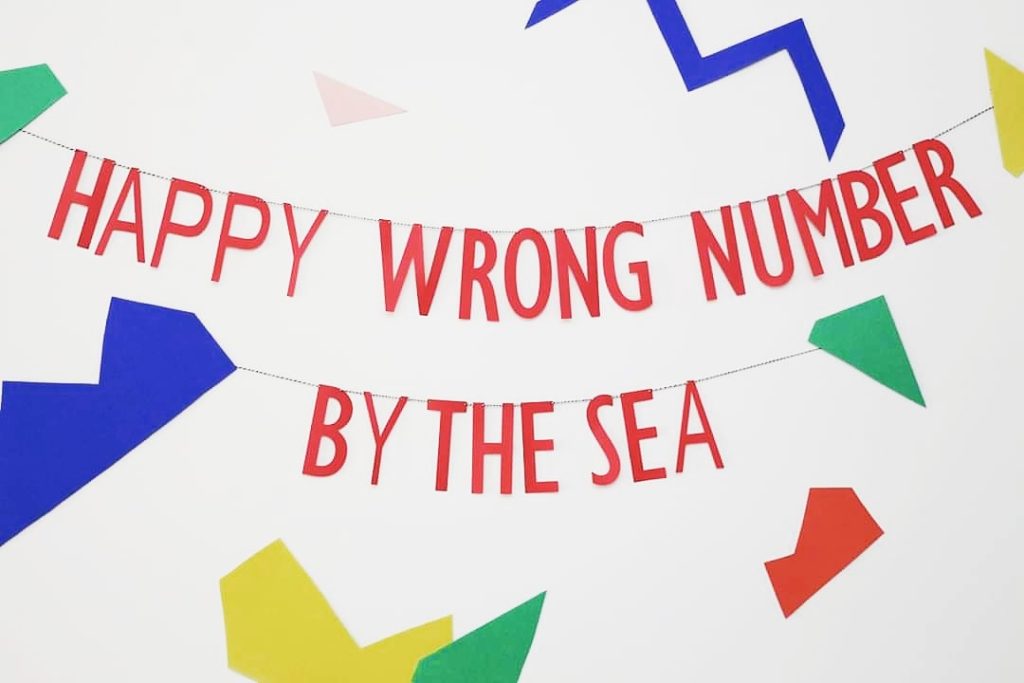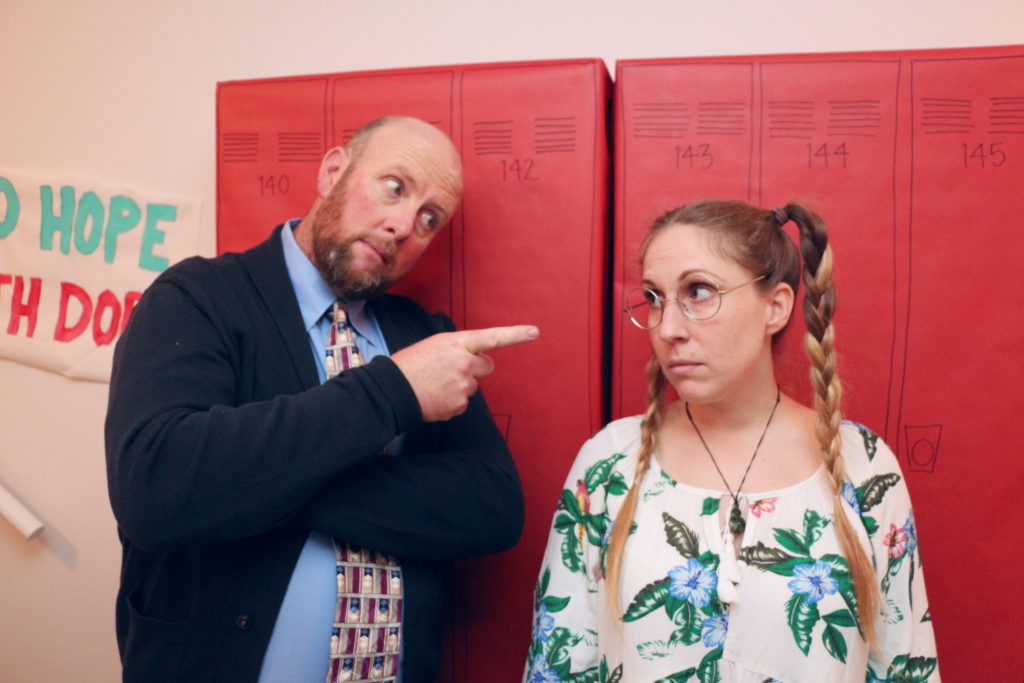 I was pretty impressed by everyone's creative costumes! We had some glee club members, Zack and Kelly, Mr. Belding, The Sprain, Violet Bickerstaff, Stacy Carosi, Jessie Spano hooked on caffeine pills… you name it!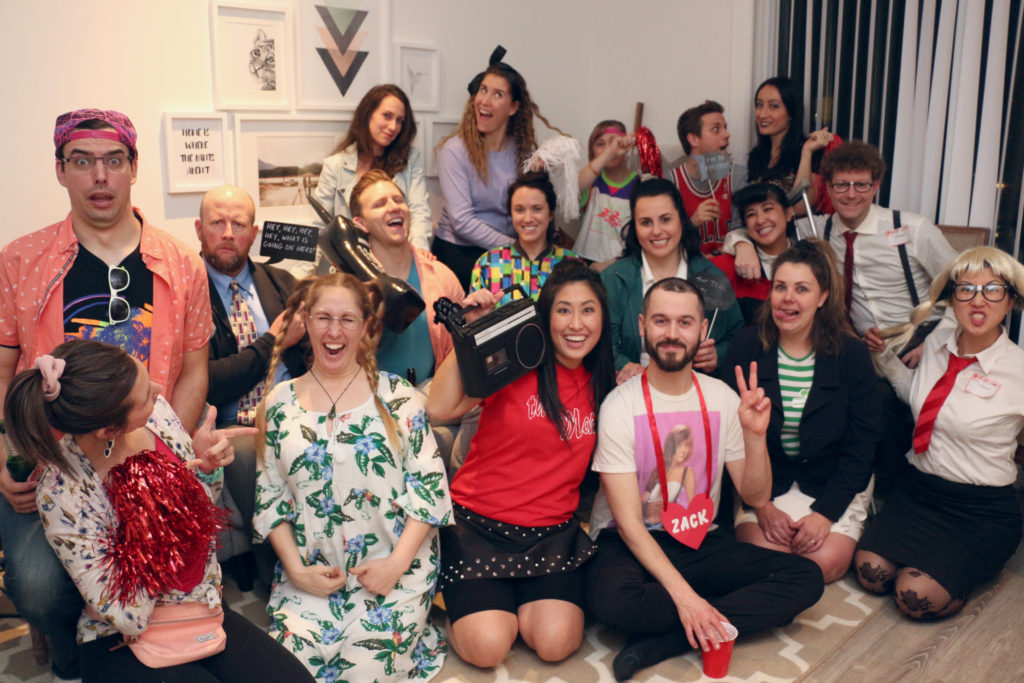 For my "Kelly working at the Max" costume, I ordered a men's shirt on etsy as well as a waist apron on Amazon, then I glued on little rhinestones that I found at the dollar store. I bought a serving tray from a wholesale store, put on some shorts and my costume was all set!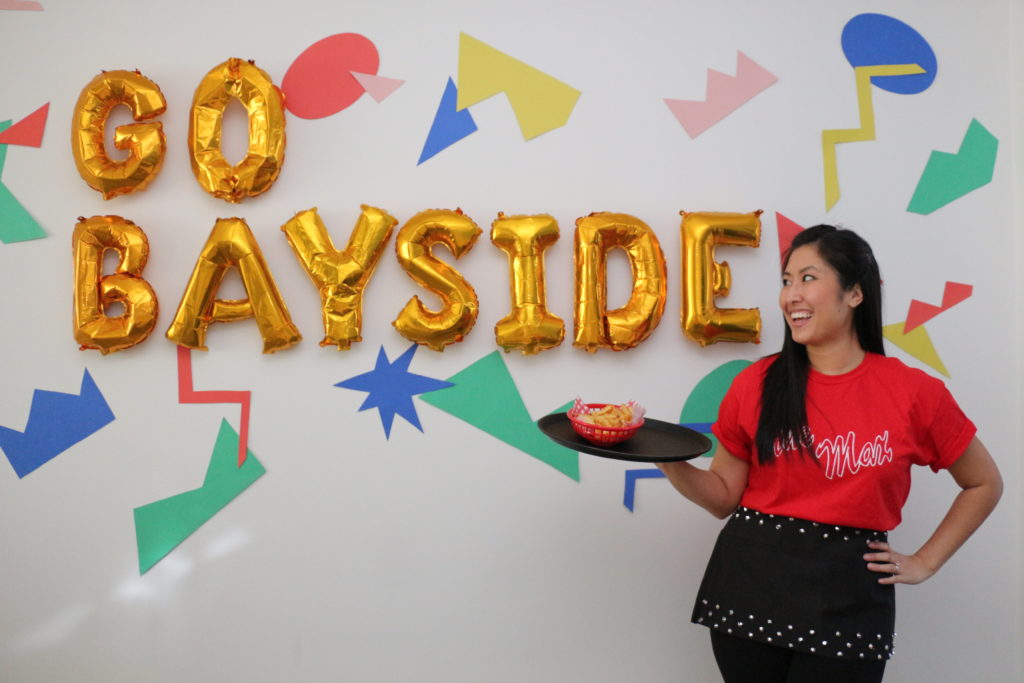 I can't tell you how many hours of thought and labour went into this party but I am so happy with how it turned out! If you've got a great theme idea for a party, I'd love to hear about it in the comments below. Go Bayside!
xoxo Bev
Creative design and photography by Bev Soh of Hand Lettered Love
Cake and cookies by Cake Me Away by Jenn